Do you remember your favorite Dr. Seuss Book?  Does it bring back memories of your childhood?   Once you read one of his books to a child they want to hear it over and over again. I know that with my students, once I read them one of his books, the request to read more just keeps on coming!   With his enticing characters, colorful  illustrations and  rich language, his books are sure to delight children all over the world. Fun Fact- His real  name is Theodor Seuss Geisel.  He was born on March 2, 1904.   Happy Birthday Dr. Seuss! Dr. Seuss is a popular birthday or baby shower party theme idea.  Why not set the tone by creating a invitation that  your guests "would not, could not, want to miss".
Click here for some cool free printable for your party or classroom.
Once your invitation is done, then the real fun begins.  Create a colorful dessert table and backdrop.  I love how the books were used as a garland to decorate the white table.  Simple and clever!  The painted red frames on the wall gives an extra touch.  You can add a picture of your child or display famous quotes from one of his books.  The ideas for a backdrop are endless!   The wall is your canvas!  Use decorative wrapping paper to create the color splash. Hang colorful pompoms from the ceiling.  You don't need too many pompoms, just enough to provide some color.  Sometimes less is more! The red paper with white polka dots are divine. Cover only the center or you can cover as much of the wall as you want.
  Wrap various size boxes to give added color to the table.  It can also showcase small dessert plates.
    Use books on the table for more decorations.
  The blue cake pops are scrumptious.  Get blue chocolate melts from the craft store and make these! Use clear vases to decorate your table with sweet treats.  The labels are adorable!  Love is in the details….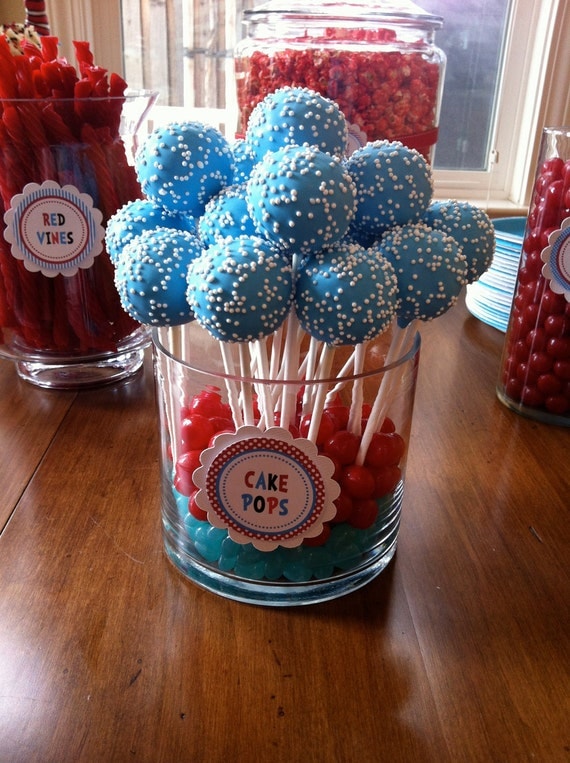 No baking Oreo cookies dipped in white chocolate.  Add confetti sprinkles and you are good to go.  So simple!
    Vanilla cupcakes with red sprinkles and blue frosting.  I made these cupcake toppers by googling Dr. Seuss books, printed them on cardstock, cut them out and taped them to a toothpick.  I made these cupcakes for my students last year.  Shhhh, I have another surprise this year.  I will share it with you on my next post.  Stay tuned.
    Here are some cake ideas and inspiration.
No party is complete without party favors.  Why not something edible? These cookies are adorable.  The thank you tag… so cute.
I hope these ideas inspired you to create something beautiful.