In this part of the country we are itching for spring and warmer weather.  Buried under all that snow, we are ready to welcome spring. Nothing says WELCOME like a beautiful  door wreath for Easter.
I've done all the work for you.  I found 8 beautiful Easter wreaths.  Here you will find some great inspiration for you to get started.  I've picked 8 of my favorites.
1.  How gorgeous is this pail full of tulips?  Tulips are definitely a sign of spring.  The mix of colors are just beautiful.  Love the pink, yellow and orange arrangement.  Remember all those times you pass right by those faux flowers at the craft store and wonder what can you do with them?  Well , Wonder no more!  Here's a fun weekend project. With a little bit of patience you can create this gorgeous wreath!  Make sure the container you use is flat on the back so it can lay flush to the door.  You will need a glue gun, styrofoam, a bow to hang it and of course tons of tulips.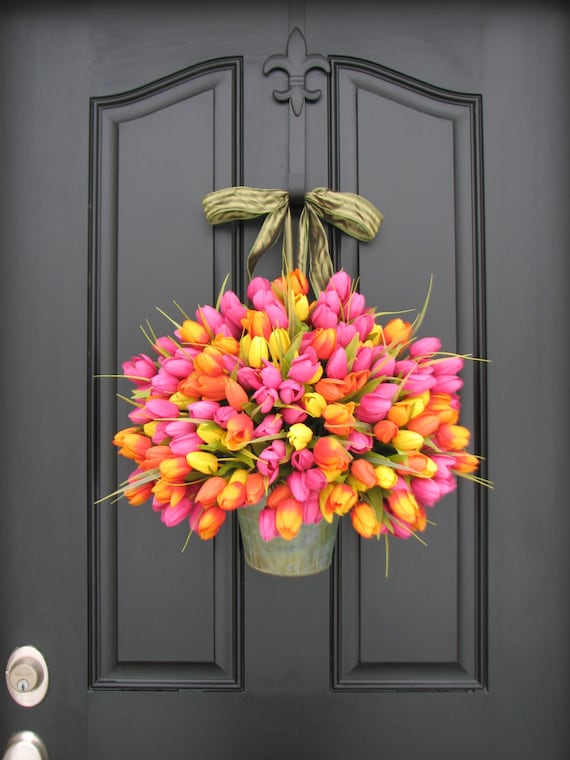 2.  This yellow tulip wreath is less involved as the one above.  It is bright and simple.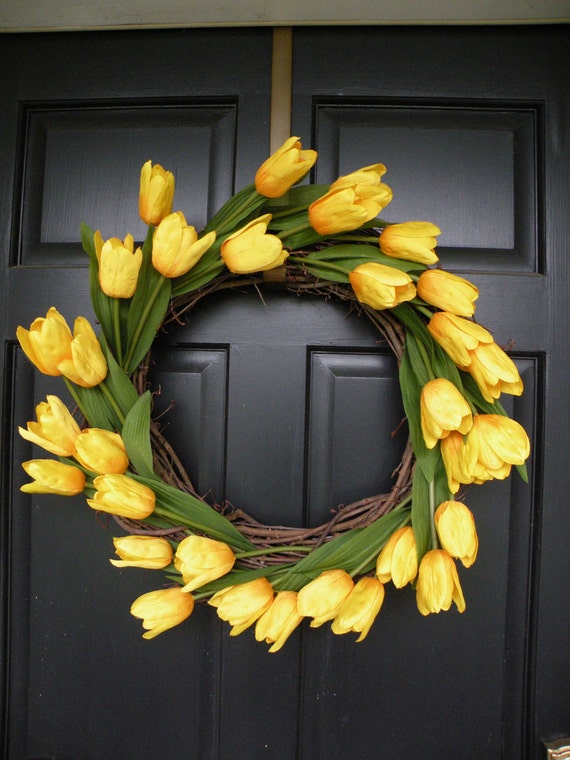 3.  I like that this wreath has the flowers on one side and a monogram on the other.  The burlap bow gives it a rustic feel.
4.  This wreath is made by painting different size plastic Easter eggs in your desired color.  This one is Robbin's egg blue.  click on the photo for a tutorial on how to make it. Hang it with a brown bow.
5.  If you don't feel like painting the plastic eggs, use the eggs as is.  Make sure the eggs are completely closed.  Click on the picture for the tutorial.  Add a bow or not and use whatever colors you like!
6.  So pretty!  Fabric styrofoam wreath.  Love the multicolors and the different size stryrofoam balls.  Click on the picture for the tutorial.
7.  Another fabric styrofoam wreath.  click on the picture for a step by step tutorial.
8.  How cute is this bunch of carrots made out of mesh.  Click on the picture for the tutorial.
Happy decorating everyone!  Make something beautiful!